Win
Problem was that before only two ethernet-interfaces were active. One for the company-intranet (which was gateway for internet) and the second one for some device connection.
After adding some 10 GigE-interface, somehow all DNS-requests were first routed via that interface. Which lead to a delay of 3-4 seconds for loading pages.
Can be fixed via setting a lower metrik to the interface, which influences the routing-table: "network- and sharing option > the specific adapter > "IPv4" > "Settings" > "Advanced settings" > bottom "metric" from "automatic metric" to some lower value. Usually it should be 25, I set 13.
You can check via CMD: $ route print for the current value. The used Gateway should have the lowest metric.
Regular formatting/diskmanager can not handle it.
Additional tools were not available/allowed to install.
So the trick was to use "diskpart" (CMD ..):
then "list disk"
"select disk1" (or the one medium which contains the partition(s))
"clean"
confirm the error
Then use a regular tool to create a new partition.
Problem: our CMakeLists.txt contained one specific variable which is just set via the VisualStudio-command-prompt. But I did not want to start that cmd, then execute our "start IDE"-script from there. Naa, too much clicks 😉
Copy this as bat-file to the directory where the qtcreator.bat would be.
rem

inspiration

from

https

:

//www.codeproject.com/Questions/541856/Batchplusfile-3aplusOpenpluscmd-2cplusrunplusVSplu

set

workingDir

=

C

:

\

Program

Files

(

x86

)

\

Microsoft

Visual

Studio

\

2017

\

BuildTools

\

Common7

\

Tools

\

rem

execute

the

VS

build

enviroment

rem

go

back

to

current

directory
Getting the 64 bit version is quite important. Still don't get it why for Win the 32 bit one was preferred ..
32 bit: 2147483647 (elements)
64 bit: 9223372036854775807 (elements)
20190711 edit: even if the container could keep that much elements – remember that [Boolean] is 24 Byte (intead of one Bit) in vanilla Python. Means: if you run out of real memory, then MemoryError :/
Sometimes you have to call some batch-files with spoecific windows-tools, so a bash is not helpful on Win.
A colleague recommended cmdr, which is quite nice and fine.
Suits my needs 🙂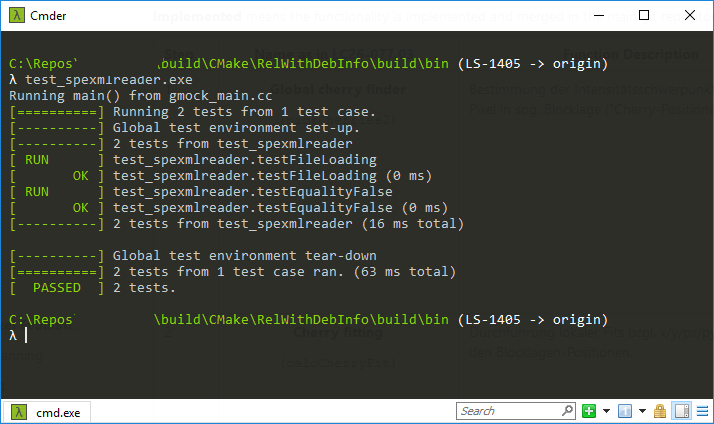 The first month of 2019 already passed. And we passed it with flying colors!
But let's have a look at 2018 – a year full of challenges and success: I've worked full-time, organized and participated in advanced courses for Python and in Requirements Engineering (officially: IREB Requirements Engineering Foundation Level-approved) and pursued a new employment as software engineer.
And I wrote some software in my spare-time, as you can see in the graph for the public github-repositories. The gaps in the commits can be explained with the birth of my daughter and the time where I acquired the new job and moved nearly 900 km across the country. Yay! Nice personal projects were and are Cullendula and the Daily Coding Challenges, which I solve mostly with fully Unit-tested Python (3).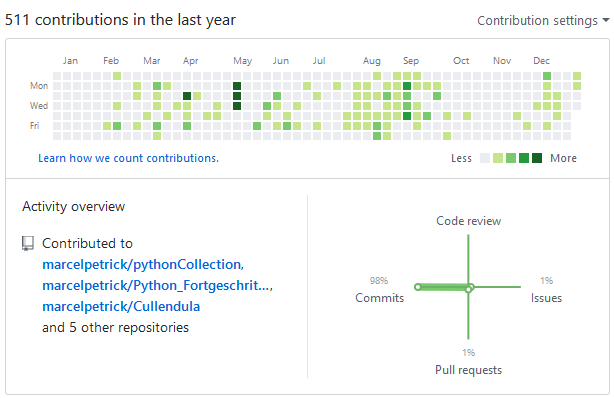 More new, hands-on knowledge was gained in the area of CMake and Qt-charts.
Well – 2018 was great. Let me make 2019 greater! 💪
Sometimes there is too much whitespace and tabs in my last commit.
In former times I used a VisualStudio-plugin, but this is not helpful there. So I wrote a small script (see on my github) which:
• replaces all tabs with four spaces
• removes all trailing whitespace
• converts line-endings to CRLF
I invoke it on the list of all changes files in my last commit in the git-repo with:
$

git

diff

--

name

-

only

HEAD

~

1

HEAD

|

xargs

-

L1

.

.

/

removeTrailing

.sh
(first part gives you a list of changed files and then feeds it to the script for execution)
reg

add

"HKEY_LOCAL_MACHINE\SYSTEM\CurrentControlSet\Control\Session Manager\Memory Management"

/

v

FeatureSettingsOverride

/

t

REG_DWORD

/

d

3

/

f

reg

add

"HKEY_LOCAL_MACHINE\SYSTEM\CurrentControlSet\Control\Session Manager\Memory Management"

/

v

FeatureSettingsOverrideMask

/

t

REG_DWORD

/

d

3

/

f
Helped with Visual Studio 2015. Should also work for 2013 and 2017.
Some weeks ago I noticed how the qDebug()-output could be enriched, so that in bigger solutions with a lot of different "unknown" components a reported error could be immediately pinned. And you save writing always __FILE__ and __LINE__. Referres to this post.
But the problem was that with the mpc-buildsystem it was unknown to me how to force it to put this DEFINE into the vcxproj-files.
It can be done via the "macros"-statement!
So I worked on my Python-skills and wrote a short script which iterates the given path recursively and fixes all mpc-files by checking for the position of the line with the last closingbrace "}" and then it adds before that position the line. Of course, the experts know several thousand ways to improve that script – but I am currently happy with it. It works, it is debug-able (.sh, I look at you!) and I will use the skeleton also for some other tasks.
It can be found (like most Python-snippets) at: https://github.com/marcelpetrick/pythonCollection
1

2

3

4

5

6

7

8

9

10

11

12

13

14

15

16

17

18

19

20

21

22

23

24

25

26

27

28

29

30

31

32

33

34

35

36

37

38

39

40

41

42

43

44

45

46

47

48

49

50

51

52

53

54

55

56

57

58

59

60

61

62

63

#------------------------------------------

def

addMacroToFile

(

filename

,

newStatement

)

:

#print("called addMacroToFile:", filename, determinePositionOfLastBrace(filename))

posLastBrace

=

determinePositionOfLastBrace

(

filename

)

for

line

in

fileinput

.

input

(

filename

,

inplace

=

True

)

:

# add additional line in case of matching last brace

if

posCurrentLine

==

posLastBrace

:

sys

.

stdout

.

write

(

newStatement

)

sys

.

stdout

.

write

(

"\n"

)

# newline, else it would be put just before the brace

sys

.

stdout

.

write

(

line

)

# prints without additional newline (on windows)

#------------------------------------------

# return the position of the last brace.

# possible improvement: in case of some malformed mpc: skip ..

def

determinePositionOfLastBrace

(

filename

)

:

with

open

(

filename

,

"r"

)

as

file

:

#has implicit close - which is nice

if

line

.

__contains__

(

"}"

)

:

# ------------------------------------------

def

fixAllFilesRecursively

(

path

,

suffix

,

newStatement

)

:

for

dirname

,

dirnames

,

filenames

in

os

.

walk

(

path

)

:

for

filename

in

filenames

:

full_path

=

os.path

.

join

(

dirname

,

filename

)

if

full_path

.

endswith

(

suffix

)

:

wasSuccessful

=

addMacroToFile

(

full_path

,

newStatement

)

if

wasSuccessful

==

"success"

:

# prevent recursion into those subdirs with meta-data

#------------------------------------------

#------------------------------------------

path

=

"D:\Repo_INS_RADARNX"

newStatement

=

" macros += QT_MESSAGELOGCONTEXT"

# TODO possible improvement: prevent double application of the added macro ..

fixAllFilesRecursively

(

path

,

suffix

,

newStatement

)
I needed some analytical help from Visual Studio (due to the fact that MTuner and AQTimer could not work properly with our suite). So, I build my solution, fire up the "Performance Profiling" in VS2015 and *zump* computer reboots.
Discussions and investigations led to the thesis that some Windows-patches are the culprit, because they prevent that previously used hooks are usable.
So, setting those two lines in an admin-enabled cmd.exe (plus reboot) lead to alleviation:
reg

add

"HKEY_LOCAL_MACHINE\SYSTEM\CurrentControlSet\Control\Session Manager\Memory Management"

/

v

FeatureSettingsOverride

/

t

REG_DWORD

/

d

3

/

f

reg

add

"HKEY_LOCAL_MACHINE\SYSTEM\CurrentControlSet\Control\Session Manager\Memory Management"

/

v

FeatureSettingsOverrideMask

/

t

REG_DWORD

/

d

3

/

f