Starting point: so, I have a brand-new laptop with a fresh Win10 and the apps lag while I move windows around the desktop. Great!
The first recommendations were already checked: Win is up to date; graphics driver for the integrated Intel GPU and for the Nvidia one as well. No, I won't roll back the system and no, a "clean start" won't fix this either.
Of course, I was also suspicious if the virusscanner or the dockingstation-three-monitor-setup is the issue. But come one: that are just 6 mio pixel and the hardware is top notch.
Mitigation:
0. open the "Dell Power Manager" and set the "Temperaturverwaltung" to "Optimiert" (before "Ruhig")
1. configure via the Nvidia that their GPU shall be the preferred one for apps: "Grundprofil" = "Hochleistungs-GPU"; check as well if any app has preset the integrated GPU (change this!)
2. disable automatic scaling of applications: System > Display. Under the scaling drop-down, select the Advanced scaling settings link. Disable "fix blurry .."
3. change the display settings to Performance: run "sysdm.cpl" and then "Advanced (Erweitert)" > "Performance (Leistung)" and then put everything to performance (radio button) and just enable "smooth font rendering"
4. change the graphic settings to "High Performance" for all "classic" and "universal" apps: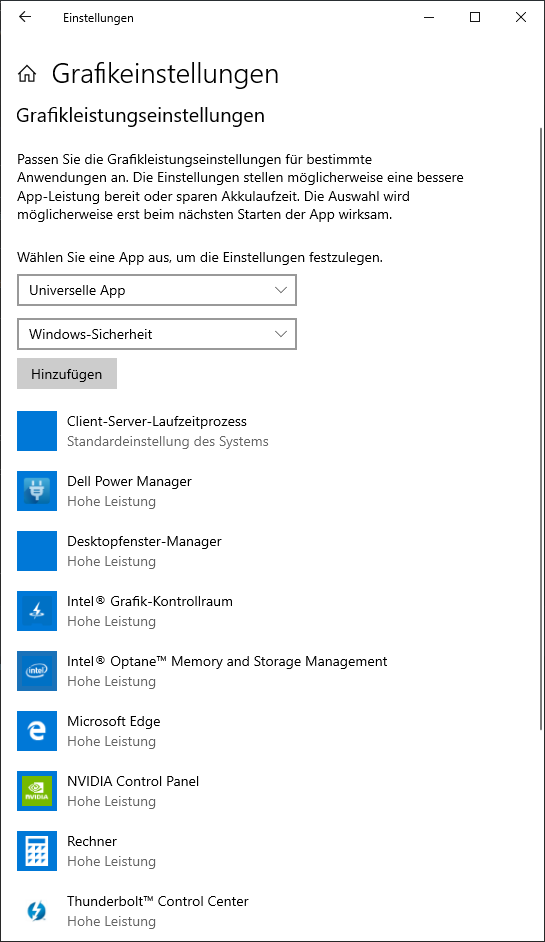 Problem is, that the dwm.exe and the csrss.exe use GPU0 no matter what you configure.
Note:
The idea to disable the integrated Intel GPU via UEFI/BIOS is not possible, because the Nvidia GPU is not a full replacement card, but relies on the iGPU ..
Options > Mail > "Send messages"-block > uncheck "Delete meeting requests and ..".
For the German version: